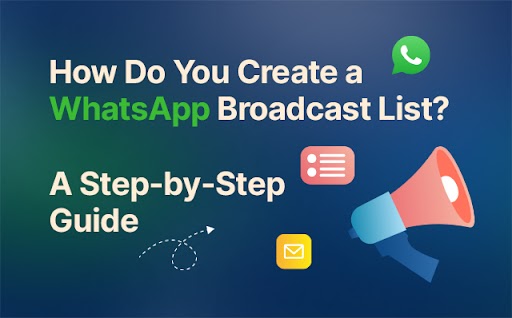 Introduction
As instant messaging and social media become increasingly popular, WhatsApp stands out as one of the most popular platforms for personal and business communication. "WhatsApp Broadcast" is a versatile feature that can help streamline your messaging efforts, whether you're keeping your family updated, connecting with friends, or engaging with your customers. This step-by-step guide explains how to create a WhatsApp Broadcast list, which lets you send messages to multiple contacts at once.
What is a WhatsApp Broadcast?
Before we dive into the step-by-step process, let's clarify what WhatsApp Broadcasts are. The WhatsApp Broadcast feature allows you to send a single message to several recipients without creating a group chat. As opposed to group chats, recipients do not see who else has received the message, and they cannot reply to one another. A select group of contacts can be sent announcements, updates, or promotions while keeping their privacy protected.
Step-by-Step
Step 1: Ensure You Have WhatsApp Installed
Make sure you have the WhatsApp application installed on your smartphone. If you have an iOS device, you can find WhatsApp in the App Store. If you have an Android device, you can find WhatsApp in the Google Play Store. After installation, open the app and complete the initial setup by verifying your phone number with a one-time code.
Step 2: Open WhatsApp
Locate the WhatsApp icon on your home screen or app drawer and tap on it to open the application. WhatsApp will load your chats and contacts.
Step 3: Access the Chats Tab
At the bottom of the WhatsApp interface, you'll find several tabs. The one you need for creating a broadcast list is the "Chats" tab. You can create and manage your conversations by tapping on it. You will be taken to your list of individual and group chats.
Step 4: Open the Menu
In the upper-right corner of the Chats tab, you'll see a set of three vertical dots (Android) or horizontal lines (iOS). These dots or lines represent the menu. Tap on them to access additional options and settings.
Step 5: Select "New Broadcast"
After tapping on the menu, a dropdown list of options will appear. Among these options, you'll find one labeled as "New Broadcast." Tap on "New Broadcast" to initiate the process of creating a new broadcast list.
Step 6: Add Contacts to Your Broadcast List
On the next screen, select the contacts you want to include in your broadcast list. On the top of the screen, you'll find a search bar where you can enter the name of a contact. Based on your input, WhatsApp will display suggestions. By swiping up or down, you can scroll through your entire contact list. To add a contact to your broadcast list, tap on their name. Repeat this process to add multiple contacts.
Step 7: Confirm Your Selection
As soon as all the contacts are added to your broadcast list, you'll see a checkmark or a "Create" button. Tap this button to confirm your selection and create your broadcast list.
Step 8: Compose Your Message
After creating your broadcast list, you'll automatically be taken to a chat screen with your newly created broadcast list as the recipient. The chat works just like a regular chat. Here, you can compose your message by tapping in the text input field and type your message. You can also use emojis, attach photos, videos, or documents just as you would in a one-to-one chat.
Step 9: Send Your Broadcast
Once you have completed composing your message and are ready to send it, click the send button. This button is typically represented by a paper airplane icon and can usually be found in the lower-right corner of the chat screen. Your broadcast message will be sent to all recipients on your list once you click the send button.
Step 10: Manage Your Broadcast List
To manage your broadcast list or check the status of your sent messages, navigate back to the "Chats" tab, where your broadcast list appears alongside other conversations. Similar to individual chats, you can open this conversation to see who has received and read your messages.
To request access to the WhatsApp Official API via Happilee, just click on this link. The Happilee team will be there to guide you every step of the way, ensuring a quick and efficient setup of your API. Through Happilee, companies have the capability to effortlessly send messages to extensive customer groups, personalize message templates according to their preferences, and monitor the status of message deliveries with ease.
Conclusion
These steps will allow you to efficiently create a WhatsApp Broadcast list, allowing you to send messages to multiple recipients while maintaining their privacy. It is particularly useful for business communication, event updates, and personal announcements.
WhatsApp Broadcast simplifies your messaging efforts by allowing you to reach a wide audience easily. WhatsApp Broadcast lists are a valuable tool whether you're communicating with your customers, sharing important information with your friends and family, or working together with a team.
FAQ
1. What is a WhatsApp Broadcast List?
A WhatsApp Broadcast List allows you to send a single message to multiple contacts without forming a group chat. It's a way to send messages to a select group of recipients while preserving individual privacy.
2. How is a WhatsApp Broadcast List different from a group chat?
Unlike a group chat, recipients in a WhatsApp Broadcast List cannot see each other's responses or interact within the list. It's a one-way communication method where only the sender can communicate with the recipients.
3. How many contacts can I add to a WhatsApp Broadcast List?
WhatsApp allows you to add up to 256 contacts to a single Broadcast List. This limitation is in place to ensure efficient message delivery.
4. Can I customize messages for each contact in a Broadcast List?
No, WhatsApp Broadcast Lists are for sending the same message to multiple contacts simultaneously. You cannot personalize messages for individual recipients within the list.
5. Can I include contacts who don't have my number saved in their contacts list?
No, WhatsApp requires recipients to have your phone number saved in their contacts to receive messages from your Broadcast List.
6. Do recipients know they are part of a Broadcast List?
No, recipients are not aware that they are part of a Broadcast List. Messages sent through a Broadcast List appear as individual chats with the sender.
7. Can recipients reply to messages sent through a Broadcast List?
No, recipients cannot reply to each other within a Broadcast List, nor can they reply to the sender. It's a one-way communication channel.
8. Can I add or remove contacts from a Broadcast List after it has been created?
You can edit your Broadcast List at any time by adding or removing contacts. Messages will be sent to recipients only after they have been added to the list.
9. Is there any restriction on what type of content I can send to a Broadcast List?
Broadcast Lists are generally suitable for sending announcements, updates, promotions, and general information, even though WhatsApp has content policies that you should adhere to.
10. Is it possible to create unlimited broadcast lists?
There is no limit to the number of Broadcast Lists you can create on WhatsApp, so you can create as many as you want.