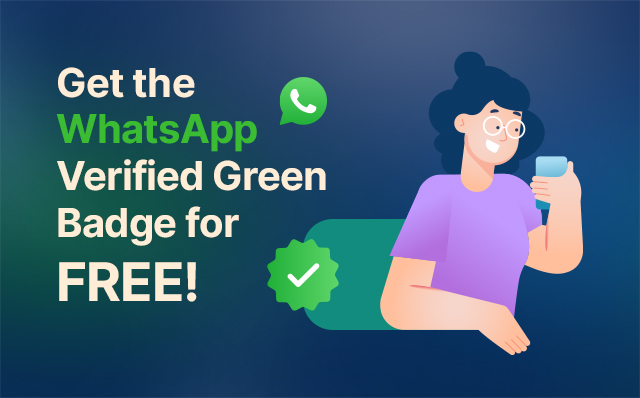 A world in which online communication has become part of daily life makes it increasingly important to ensure the authenticity of online accounts. As one of the most popular messaging platforms in the world, WhatsApp has introduced the "Green Tick Verification" badge to distinguish genuine accounts from impostors. In order to give your WhatsApp account credibility, we will walk you through the process of applying for WhatsApp Green Tick Verification.
Why WhatsApp Green Tick Verification Matters
An account with WhatsApp green tick verification has been authenticated by WhatsApp as belonging to a legitimate entity. Adding this badge to your account is not only for adding credibility, but it also boosts trust among followers, customers, and people in general.
Enhanced Credibility: The Green Tick Verification badge instantly sets your WhatsApp account apart from numerous unverified profiles. Your brand, business, or persona are assured that users are interacting with an official, authentic, and trustworthy source.
Protection Against Impersonation: In the digital age, impersonation and fake accounts are rampant. The verification badge acts as a shield against such impersonators. Users can easily identify and trust your account, avoiding potential scams and misinformation spread by fake profiles.
Trust in Transactions: For businesses, especially those involved in e-commerce, the verification badge is a game-changer. Having a verified account inspires confidence in customers, who are more likely to make purchases or share personal information.
Strengthening Brand Identity: For companies, the Green Tick Verification badge aligns seamlessly with your branding efforts. Your brand identity is strengthened in the eyes of customers when you demonstrate authenticity and professionalism.
Media and Press Relations: Journalists, bloggers, and media personnel often rely on official sources for information. The verification badge makes it easier for them to identify and reach out to you for accurate information and comments, potentially leading to positive media coverage.
Networking and Collaboration: If you're a public figure, artist, or influencer, the verification badge can open doors for collaborations and partnerships. Other verified accounts are more likely to engage with you, knowing that they're interacting with the real deal.
WhatsApp Green Tick Badge Prerequisites
It is necessary for you to have a WhatsApp Business API account.
Apply for Free WhatsApp Business API account
2. Your business should be verified on the META business manager.
3. 2-Step Authentication must be enabled.
4. Tier 2 or higher messaging is recommended.
https://developers.facebook.com/docs/whatsapp/messaging-limits#messaging
5. There should be at least three organic PRs for your business.
Note: To apply, you must have a WhatsApp Business API account. It is not possible to apply on the Business App using your WhatsApp Account
Step-by-Step Guide for WhatsApp Green Tick Verification
In order to initiate the WhatsApp Green Tick Verification application, please follow these steps:
1. Account Eligibility: Before you start the verification process, ensure that your WhatsApp account meets the eligibility criteria. WhatsApp typically reserves this verification for notable businesses, celebrities, public figures, and other high-profile individuals.
2. Account Completion: Complete your WhatsApp account and ensure it accurately reflects your business or identity. You should match your brand or image with your profile picture, display name, and status.
3. Prepare Documentation: WhatsApp requires official documentation to verify your account. For businesses, this may include a copy of your business license, tax identification number, and other relevant documents. Public figures and celebrities might need to provide official identification documents.
4. Contact WhatsApp Support: Open WhatsApp and go to "Settings." From there, select "Help" and then "Contact Us." This will allow you to communicate with WhatsApp Support. Explain your intention to apply for the Green Tick Verification and provide information about your account's authenticity.
5. Share Documentation: You may be asked to submit documentation during your conversation with WhatsApp Support to verify your identity or legitimacy. Ensure that these documents are clear and of high quality to facilitate the verification process.
6. Wait for Review: Once you've submitted your documentation, the WhatsApp team will review your application. Due to the large number of verification requests they receive, this process might take a while. Please be patient and avoid submitting multiple requests, as this could prolong the process.
7. Notification of Decision: WhatsApp will notify you about the outcome of your verification request. You'll receive a Green Tick Verification badge on your account if your application is successful. If you are rejected, WhatsApp might provide you with reasons for their decision, so that you can rectify any issues and reapply in the future.
8. Stay Active and Authentic: Keep your account active and authentic. If you receive the Green Tick Verification badge, it is vital to keep your account authentic. Engage with your followers genuinely, provide accurate information, and avoid any actions that could undermine the trust that the badge signifies.
9. Maintain a Strong Online Presence: While the Green Tick Verification badge adds credibility to WhatsApp, it's equally important to maintain a strong online presence across other platforms. Integrate your verified WhatsApp account with your official website, social media profiles, and other online accounts. It will reinforce your authenticity if you are consistent with your branding and messaging.
10. Utilize Verified Features: WhatsApp offers some exclusive features for verified accounts that can enhance your interactions with users. These features may include quick replies, automated messages, and the ability to create business catalogs. By using these tools, you will be able to provide efficient customer support and share vital information with your customers.
11. Monitor and Respond: With the verification badge, you're likely to attract more attention and interactions. Regularly monitor your messages, respond promptly to queries and feedback, and maintain a professional tone in all your interactions. Engaging with your audience consistently will strengthen your reputation.
12. Keep Information Updated: Life is dynamic, and so is the information associated with your account. Make sure that your account's details are up to date whenever you change your business address, start a new project, or reach a milestone. As a result, your followers will feel more confident about your account, as the information you provide is accurate and up-to-date.
13. Beware of Impersonators: Just because you have a verification badge doesn't mean that impersonation attempts won't be made against you. Be vigilant and educate your followers about how to identify your genuine account. Make them aware of fake accounts that may ask for personal information or engage in suspicious activities.
14. Avoid Misuse: Do not misuse the Green Tick Verification badge, as it is a privilege that reflects authenticity. In the event that you misuse this badge by sharing false information, engaging in spammy behavior, or violating WhatsApp's terms of service, the badge may be revoked. Be responsible when using your verified status.
Paving the Way for Trust and Credibility
It takes authenticity, patience, and compliance with WhatsApp's guidelines to obtain the WhatsApp Green Tick Verification badge. This is more than just a status symbol; it's a commitment to provide accurate, reliable, and trustworthy information to your audience. You will ensure your WhatsApp account's credibility by following this comprehensive guide and incorporating best practices into your online presence, as well as building stronger connections with your followers, customers, and supporters.
Excluded Business Categories for WhatsApp Green Tick Verification
To qualify for WhatsApp's Green Tick verification, businesses must adhere to WhatsApp's eligibility policies. In order to ensure responsible and secure use of its Business APIs, WhatsApp has specific rules in place. It is generally not possible for the following types of businesses to obtain Green Tick verification or use WhatsApp Business APIs:
Drugs
Tobacco Items
Gambling Businesses
Alcohol Brands
Weapons & Ammunition Businesses
Live Animals
Adult Products/Services
Medical & Healthcare Products
Dating Services
Cryptocurrencies
WhatsApp's Commerce Policy may change over time, so businesses should regularly check or contact WhatsApp directly for the most current information on their policies.
Frequently Asked Questions
1. What is WhatsApp Green Tick Verification?
WhatsApp Green Tick Verification, also known as WhatsApp Business Verification, is a process that authenticates and verifies the identity of a business on WhatsApp. It results in a green checkmark badge next to the business's name, signifying trust and authenticity to users.
2. Why is WhatsApp Green Tick Verification Important for Businesses?
WhatsApp Green Tick Verification is important for businesses because it enhances a business's credibility and trustworthiness. It helps customers identify legitimate businesses, reduces the risk of scams, and encourages user interaction.
3. Who is Eligible for WhatsApp Green Tick Verification?
Eligibility for WhatsApp Green Tick Verification depends on various factors,such as the business category, geographical location, WhatsApp's policies, and the completeness of the WhatsApp Business profile. It is not available to all businesses.
4. What Documents Are Required for WhatsApp Green Tick Verification?
Business licenses, tax identification numbers, and legal business names are usually required by WhatsApp. Depending on the region and type of business, the specific documents may vary.
5. Can I Apply for WhatsApp Green Tick Verification if My Business Operates in a Prohibited Category?
No, WhatsApp disallows certain business categories, such as those related to drugs, tobacco, gambling, and adult products/services, from applying for WhatsApp Green Tick Verification. These businesses are also typically restricted from using the WhatsApp Business API. For more details on WhatsApp's policies and the prohibited categories of products and services, please refer to WhatsApp's Commerce Policy.