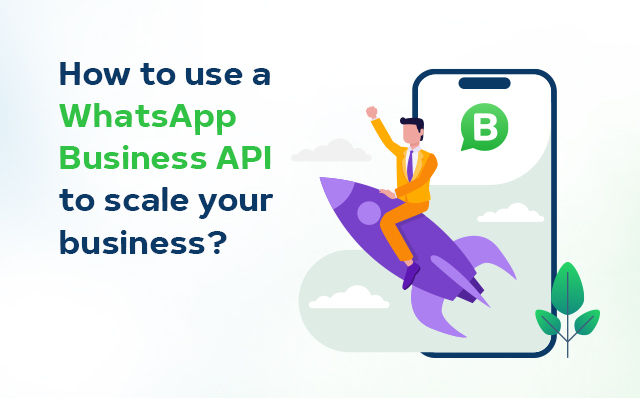 WhatsApp is a huge online social platform with more than 2 billion users worldwide. This means that the potential for marketing in WhatsApp is also enormous. Giant enterprises and small-scale businesses have begun to use WhatsApp marketing effectively with the help of WhatsApp business and WhatsApp business API. Today we'll be taking a deep dive into how WhatsApp can help small and medium businesses and how WhatsApp business api can further improve its efficiency.
What is WhatsApp business, and how is it different from regular WhatsApp?
As the name suggests, WhatsApp business is for business owners and is not generally meant for personal use. This version of WhatsApp is geared more towards small and micro business management. While regular WhatsApp allows you to send messages and status updates, WhatsApp business lets you add additional details like your address, phone number, working hours, etc.
WhatsApp vs. WhatsApp business vs. WhatsApp Business API
Look at it this way:
1) WhatsApp: person to person.
2) WhatsApp Business: person to small businesses.
3) WhatsApp Business API: person to large businesses/enterprises.
Before we talk about WhatsApp Business API, let's talk a little about APIs. An API essentially acts as a bridge between two apps. In our case, WhatsApp Business API connects WhatsApp with a chatbot or conversation AI. WhatsApp Business API can help increase lead generation and also help in verifying those leads, improves customer interactions, and so much more.
Small businesses often face immense pressure as they have to overcome a sea of challenges until they reach stability.
Critical problems that small businesses must deal with:
Ability to fulfill orders
Small companies that consistently keep up with the growing demands are likely to bottleneck when there is a spike in orders.
Ecommerce sites, in particular, must be able to take orders and successfully deliver last minute. (something that requires a lot more resources and planning to do). Failing to deliver or even an unintentional delay in delivery can seriously affect a company's reputation. Customers prefer to get live updates and options to refund/ return orders, so those features must also be implemented into your app/website using a WhatsApp business API. These are critical features that can drive away sales and revenue if not executed properly.
Little to no social media presence
Every company must have a social media presence these days. Keeping up with the ever changing trends and technologies is a must if you plan on building a successful business. A good social media presence paired with a sound public image will help set the company apart from the rest of the competition. Offers and product launches can be sent out via social media platforms so that your customers can stay updated on what your company has to offer.
Lack of industry knowledge
Although social media presence is critical for any company's success, industry knowledge is another fundamental aspect of success. Knowing what will work and what won't work is absolutely essential when it comes to launching a new product. This also means that you should know what goes on in your industry to predict the future needs and want of your customers.
Payment
Customers prefer multiple modes of payment like cash, credit card, UPI and so on. It is very important that your business has the ability to accept payments in all forms so that a customer can pay the way they prefer. Lengthy registration and delays in receiving payments can be why you begin to lose customers.
Not able to create brand loyalty
This is a fairly difficult problem to overcome, as building brand loyalty takes time and effort. However, a loyal customer is a repeat customer who not only guarantees more sales but also works as a form of free advertisement. Word of mouth is extremely valuable to any business as it is a testimony to a satisfied customer. In order to create brand loyalty, you will be required to provide excellent products and subsequent customer care services. Gathering feedback after sales and acting upon it is one of the best ways to improve your business.
How can WhatsApp API help small businesses?
It is not entirely true to state that WhatsApp business APIs are intended to help only small businesses. WhatsApp APIs are actually intended for mid-sized and large businesses. However, if you are a small business owner who is looking to scale up, then a WhatsApp API might just be what you need. With the help of a WhatsApp API, you can:
Save valuable Business hours.
WhatsApp Business API will answer frequently asked questions without them having to talk to a customer service agent.
Images, text, and documents can be sent and received.
Using our WhatsApp business API, you can send and receive documents, images, and other ways to communicate safely and easily.
Help you keep the customers you already have.
Happilee's main goal is to keep the customers your business has gained over the years. We answer any questions they may have and try to get them to come back to your business.
Create leads and authenticate them.
With WhatsApp API's help, you'll not only be able to find new leads, but you'll also be able to make sure they're real.
Keep things in order.
With smart cards, labels, tags, and private notes, WhatsApp business API will make it easy to keep track of your contacts and stay organized.
Conclusion
So, with all these features and other marketing tools, WhatsApp business API will let your business meet its growing needs, irrespective of your company's size. The future of marketing will rely heavily on WhatsApp marketing. The sooner you embrace that fact, the faster will be your transformation from a small business to a large enterprise.