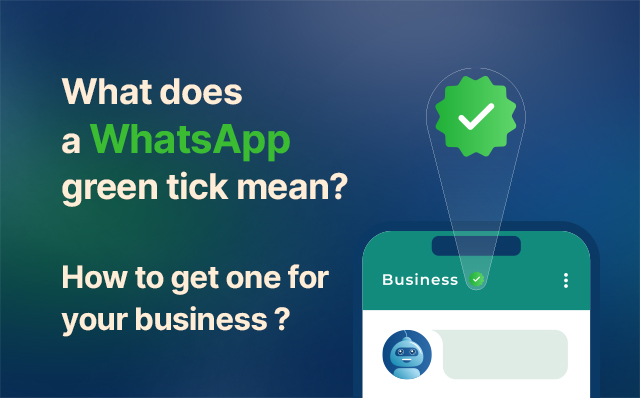 It's no doubt that WhatsApp, one of the most used social platforms on the planet, has transformed over time to become an ever-expanding marketplace for businesses. Starting from the  E-commerce & medical sectors to the insurance & finance domains, WhatsApp has changed how enterprises operate and transact with their customers. With an ever-growing database of more than 2 billion active users, WhatsApp has truly empowered businesses to expand their reach to every nook and corner of the world. Market outreach, once considered possible only by huge capital investments, is now done with just a WhatsApp Business account.
The introduction of the WhatsApp green tick feature has additionally powered businesses to safeguard their trust and brand value in the global marketplace. Customers are informed more than ever about the assured safety of their purchases when dealing with a merchant through WhatsApp Business. In addition to WhatsApp revolutionizing the outreach of businesses, the rollout of the WhatsApp green tick feature has provided them with a platform to engage with their audience and build a loyal customer base.
What is WhatsApp Green Tick feature?
One of the standout features of WhatsApp is the green tick feature that helps people to identify genuine businesses in today's huge marketplace and assures them of safe transactions and added privacy. If you're running a business, then it's important to get yourself a WhatsApp green tick for your business so that your enterprise can stand out from the crowd, to boost your customer base and revenue. When customers see a green tick next to your business name, they know that your enterprise is a verified, trusted source. This can help increase customer confidence and improve your brand image, resulting in exponential growth and amplification of your sales figures. WhatsApp Business Accounts with a green tick beside their name indicate that they have been verified by WhatsApp. This means that WhatsApp has confirmed that the account phone number matches the business phone number listed on their website or in their public directory listing.
Benefits of WhatsApp Green Tick
Here are some benefits of the WhatsApp green tick feature:
Increased Credibility: Having a WhatsApp green tick beside a business's name provides them with a level of credibility, signalling to customers that their business is legitimate and trustworthy. The more credible a business is, the more sales it does than others.
Increased Engagement: The green tick can encourage customers to engage with a business safely and securely as they can be assured that their messages have been received and will be read, leading to increased engagement and improved customer satisfaction.
Enhanced Marketing: The WhatsApp green tick can be used as a marketing tool to showcase an enterprise's commitment to the best customer service. Customers value a business' customer service to a great extent and if an enterprise is able to ensure that with the help of its brand image, then the sky is the limit.
Global Reach: WhatsApp has an enormous user base, empowering businesses to communicate with customers globally. The WhatsApp green tick feature contributes immensely to building the basic blocks of an enterprise's place in the market. The WhatsApp green tick helps businesses to cut across physical borders and multilinguistic barriers and open up new markets. Enterprises can leverage the power of previously unexplored markets to boost their businesses and amplify their revenue and growth.
How to get the WhatsApp Green Tick?
To get a green tick for your WhatsApp Business Account, follow these steps:
Verifying the phone number: Ensure that the phone number you use for your WhatsApp Business Account is verified and registered with your corresponding name and address. The fundamental step to setting up a business's digital presence is putting up a genuine name and proper address. Because customers are more likely to verify the contact credentials first in order to establish genuine belief in the enterprise.
Completing the business profile: Fill up your online profile with as many details as possible, such as your business name, description of the products and services, enterprise's address, website, and email. The more details you put on your WhatsApp Business profile, the greater will be the trust it establishes in the minds of your potential customers in the global trade market. One of the very first things a customer notices in a business's profile will be the number of details put up, which validates the efforts of an enterprise in putting the customer in the driver's seat.
Build a good reputation: Be super responsive to your customers by providing accurate information, and avoid spamming or sending unsolicited messages. This gesture will assist in establishing a good reputation for your business and boost your chances of getting a green tick. WhatsApp does the background checks of an enterprise to make sure that the WhatsApp green tick feature is not misused by people. After all, the WhatsApp green tick feature remains relevant only until it's safeguarded from all kinds of misuse and mischief.
Apply for genuine verification: Head over to the WhatsApp Business verification page and apply for the business profile verification. The additional information you share about your business and its services, including your business registration number and any relevant documents, aids WhatsApp in making sure that your business is a genuine one. The verification process can take anything from a few hours to a few days, during which WhatsApp validates the documents you have shared with them. The process remains hassle-free in order to make sure that business owners don't get entangled in the documentation and application processes.
Wait for verification: WhatsApp will review your application and may ask for additional information or documents. Once your application is approved, the green tick will be shown next to your business profile's name. On receiving the WhatsApp green tick, now it's up to you as a responsible business owner to make the most of the feature and ensure the best service and support to your customers.
WhatsApp may not verify all business accounts, and the process can take some time. If you are not able to get a green tick, focus on building a good reputation, provide excellent customer service to your customers, and then apply for the WhatsApp green tick again.
Conclusion
The WhatsApp green tick feature is a powerful tool for businesses to connect with their customers on WhatsApp. Businesses can build a strong brand presence on WhatsApp and connect with their customers in a more meaningful way. For small-scale enterprises and upcoming businesses, the green tick feature is a big boost to put themselves on the global map. Having a verified account with the WhatsApp green tick can help boost your business's credibility and trustworthiness. So it's worth taking the time to apply for verification if you are serious about growing your presence online. With a bit of effort and patience, you too could have that coveted green tick next to your business name!