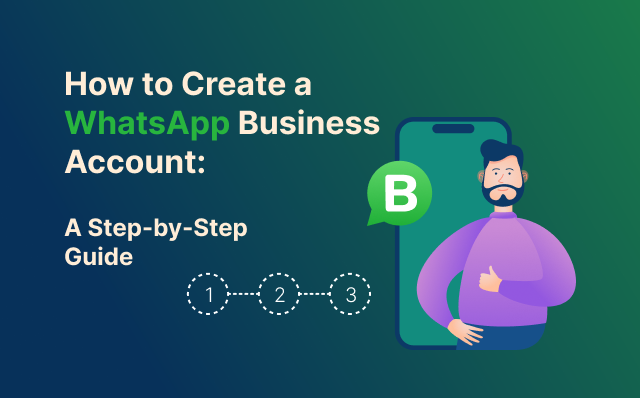 In today's digital age, effective communication is crucial for businesses to thrive. Customers and clients have found WhatsApp Business to be a valuable tool for connecting with businesses. If you are looking for information on how to create a WhatsApp Business account, you are in the right place. Every step of the process is covered in this comprehensive guide.
Why Use WhatsApp Business?
Before we delve into the steps, let's briefly explore why WhatsApp Business is worth considering for your business:
Professionalism: You can create a professional profile with WhatsApp Business by adding your business name, contact information, and description.
Customer Engagement: Ensure efficient customer engagement by providing support, answering inquiries, and sharing updates in real time.
Automation: You can streamline communication and save time by using features like quick replies and automated greetings.
Rich Media Sharing: Engage your customers with rich media sharing, including images, videos, documents, and location pins.
Organizational Tools: Labels and categories help you organize conversations and prioritize customer interactions.
Creating WhatsApp Business Account
Now, let's get started on creating your WhatsApp Business account:
Step 1: Download WhatsApp Business
You can find apps in your device's app store, such as the Google Play Store for Android or the Apple App Store for iOS.
You can download the application by searching for "WhatsApp Business
Once the download is complete, open the WhatsApp Business app.
Step 2: Verification and Initial Setup
WhatsApp Business terms and conditions are displayed when you open the app. Accept them after reviewing.
Enter your dedicated business phone number. This number should be exclusively used for your business, as WhatsApp Business doesn't allow sharing a number with the regular WhatsApp app.
Enter the verification code sent to you via SMS to verify your phone number. In order to confirm ownership of the number, this step is essential.
Step 3: Business Profile Setup
After verifying your phone number, WhatsApp Business will allow you to set up your business profile.
Fill in your business name, which is the name that customers will see when they contact you.
Upload a profile picture or business logo to identify your business visually.
Provide a brief description of your business, summarize about products or services you offer.
Add your business address, so customers can locate you easily.
Specify your business hours to let customers know when you're available.
Include your business website if applicable, enabling customers to access more information about your offerings.
Step 4: Customize Business Settings
WhatsApp Business offers various settings options to tailor the app to your business needs.
Under "Business settings," you can configure messaging tools, set automated responses, and customize your greeting message for new customers.
In "Chat settings," you can manage features like read receipts and media visibility.
Adjust "Notifications" settings to control how you receive alerts and messages.
Step 5: Utilize Business Features
WhatsApp Business provides valuable tools to enhance your customer communication.
"Quick Replies" allow you to create and use predefined responses to common customer inquiries. This can significantly speed up your responses and ensure consistency.
"Automated Greetings" let you welcome customers automatically when they first message your business or after a period of inactivity.
"Labels" enable you to categorize and organize customer conversations. Create custom labels to keep track of specific inquiries or customer segments.
Step 6: Interact with Customers
Actively engage with customers by responding promptly to inquiries, providing information, and addressing concerns.
Utilize multimedia options to share images, videos, documents, and location pins to convey information effectively and visually.
Step 7: Promote Your WhatsApp Business Account
Share your dedicated WhatsApp Business phone number on your website, social media profiles, and marketing materials to encourage customer contact.
Consider using WhatsApp Business QR codes, which customers can scan to initiate a chat with your business instantly.
Step 8: Monitor and Adapt
Regularly check "Messaging Statistics" to evaluate the performance of your WhatsApp Business account.
Review metrics such as message delivery rates, response times, and customer engagement.
Use insights from these statistics to adjust your communication strategy and improve customer interactions.
Step 9: Stay Compliant and Secure
Always adhere to WhatsApp's policies and guidelines to maintain the integrity of your business account.
Ensure the security of customer data by using strong authentication methods and respecting privacy regulations.
Creating a WhatsApp Business account is a valuable step toward enhancing your business's communication and engagement with customers. With its user-friendly features and widespread popularity, WhatsApp Business can help you build stronger relationships and grow your business. Get started today and unlock the full potential of this powerful business tool.
Automating WhatsApp Business Account Messages
WhatsApp Business and WhatsApp Business API are two distinct services. Through WhatsApp Business API you can enhance your WhatsApp automation capabilities significantly like developing WhatsApp chatbots, seamlessly integrating with CRM systems, and exploring an extensive range of advanced features and opportunities. Explore WhatsApp Business API's full potential by considering various use cases, from customer support to appointment scheduling. You can fully leverage WhatsApp Business API's potential when you partner with the industry's best service provider. You can enhance your customer communication strategy with Happilee, a leading WhatsApp service provider. Choosing Happilee allows you to leverage WhatsApp Business API to its full potential, driving business growth and success.
By following this tutorial step-by-step and getting support from Happilee, your business can harness the power of WhatsApp Business API. Providing seamless and personalized communications to your customers will enhance their experience and build stronger relationships, ultimately driving business growth and profitability.