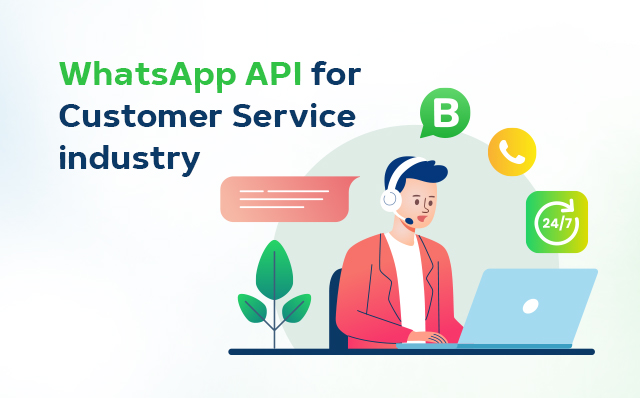 Customer service agents have recently started benefiting from Whatsapp api and other AI-powered tools. This is a shift from the traditional ways of dealing with customers and is clearly affecting every industry in one way or the other.
For any industry to thrive, it needs to have repeat customers and a loyal following. Both are not easy to attain, as it takes a lot of skill and effort to connect with your customers.
New queries and FAQs must be addressed immediately and offers and promotional messages must be communicated regularly. Customer feedback and complaints must also be duly noted and answered accordingly.
All this comes under the sole responsibility of the customer service agents. They are to ensure that no customer is kept waiting or left unanswered. This is, however, a very daunting task. Maintaining and operating a customer care department is expensive and time-consuming. We are all humans who are often prone to errors and mood swings, which directly affect the results.
AI, however, has none of these disadvantages. They can be programmed to do specific tasks and processes that may seem tiring and repetitive to us. While we become exhausted and bored, they do not.
Today we'll be taking a good look at why AI is leading the revolution in the customer service industry in the form of WhatsApp api and in what ways it has positively impacted the industry.
WhatsApp API is excellent at dealing with FAQs
FAQs are normally a boring ordeal for every customer service agent as they are expected to explain repetitive information over and over. With the help of a WhatsApp api, this task becomes simple. Feed all possible questions and answers into the AI, and that's it. Instant replies to FAQs.
This will lead to a happy customer who is satisfied in a much quicker manner. Based on the complexity of the AI, you can even program the AI to respond differently to the same questions, which further increases customer interaction.
Faster response time using WhatsApp API
A customer with a question to ask expects a quick response. The more delayed the response is, the more that company's reputation is damaged. Whatsapp api can ensure that the response is swift and accurate compared to a regular customer service agent.
Around-the-clock service
Whatsapp api can work day and night regardless of traffic, weather, or fatigue. This means that your customers will get the best service all the time. With a WhatsApp api that can communicate 24×7, you can rest easy knowing that all your customer queries are attended to and resolved almost immediately.
Great return on investment
Automating your entire customer care department is not possible yet, but Whatsapp api can help reduce costs for the company. By taking the load of customer service agents, AI can be entrusted with mundane and boring tasks. This helps reduce the company's need to hire and train new customer service executives. Although the initial expense and efforts needed are a little high, AI far outweighs its demerits in the long run.
Easy scalability using WhatsApp API
Scaling a business is no easy task. However, You'll find it incredibly easy when you begin to scale your customer care department because of your Whatsapp chatbot. Instead of interviewing and onboarding dozens of new customer service agents in a matter of weeks or even months, you can simply upgrade your current plan. This saves countless working hours that might have been spent on acquiring new talent, not to mention the cost reduction.
Comfortable customer onboarding
One of the most faced issues for a new customer is navigating a website or an app. If overwhelmed, you even risk losing that customer as well. This is where a WhatsApp api comes in handy. By helping the customer get familiar with all the features in the app, The AI powered WhatsApp api will ensure that the new customer stays satisfied.
Track and analyze your customer service agents
With the help of a WhatsApp api, you'll be able to track the number of calls each of your customer service agents attended, their duration, and their outcome. This allows the employees to concentrate further on where they are lacking and improve their skills. You'll also have the ability to take over any chat, should you feel like it.
Make suggestions for responses
In addition to all the advantages listed above, Whatsapp api that AI powers will have a huge edge compared to our regular customer service agents. They will be able to make suggestions. Suggestions are a great way to narrow down answers and also help in a faster response from the customer's side. Preloaded answers can be instantly triggered when the corresponding suggestion is selected.
More data
Data-driven research is always accurate, and in the forthcoming future, the most valuable resource will be the data itself. With an AI-driven Whatsapp api, you can collect everything from response time to reason for rejection and much more. This data can be directly used to improve your marketing strategy and update your existing business model. Adapting to the changes in the market is a key element in the survival of a business. 
Customer care is an industry that is crucial to every business, irrespective of nation, language, or category. All industries need customer care, and automation is the next logical step for this particular industry to increase efficiency and productivity. Automation is never going to result in mass unemployment. Skilled labor will always be in demand, and Whatsapp API and other AI-based tools will only assist in making their jobs easier. With simple tasks taken care of, customer service agents will have more time to focus on critical issues that require immediate attention.
If you are looking for the perfect WhatsApp API, then Happilee should be your first and only choice. Happilee was made by Neoito and had been revolutionizing the WhatsApp market for the past year!
If you like this article, continue reading some of our other articles:

Enhance business using WhatsApp List Messages powered by WhatsApp Business API
An ultimate guide on WhatsApp Business API for Real Estate 2023