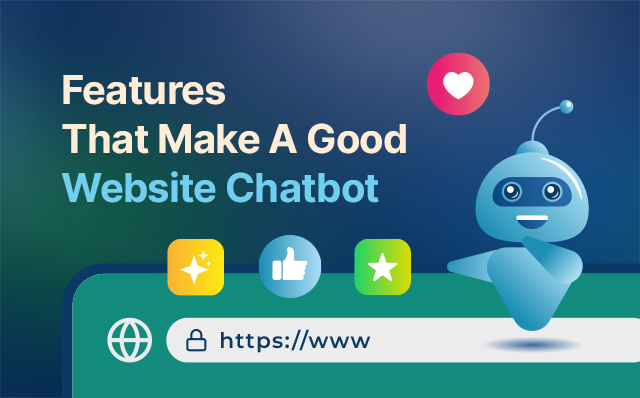 We all know what a website chatbot is by now. People are forced to use one of them in their daily routine corresponding to their requirements. Chatbots are a great tool for adding value and entertaining clients throughout the purchase cycle, whether you're a developing startup or a more established company. Businesses anticipate using chatbots to provide more specialized customer service, according to 64% of respondents. 80% of customers who used a chatbot reported positive feedback about user experience. Chatbots' functionalities have advanced to the point that many people now consider them integral to their real-time customer response approach.
How can AI web chatbots help your e-commerce website?
These website chatbots are just computer programs that simulate human conversation and make it comfortable for us to interact with online services utilizing natural language. They help us automate our business tasks like customer support, marketing, and sales. Leveraging a chatbot solution is the best thing you can do if your business is looking for enhancing customer communication and boost the level of engagement. Businesses could automate interactions by deploying bots. But you need to know those AI website chatbot functions and essential features that can help meet the user expectations and deliver a prompt retort to their questions.  
How do Chatbots Streamline User Experience?
You can decide what the actions of the chatbot should be. You can decide on whether it represents a digital member of your company to serve your staff or a lead-generating machine that interacts with website visitors. The Natural language processing system facilitates the user and customer by answering the multiple-choice questions in less time. So that you can save time and build the trust of customers. A good website chatbot should have the following qualities:
Analyze and respond to users' natural language inputs.
Personalized conversation based on the user's profile and preferences.
Quick response to customer queries.
User-friendly and simple to use in terms of navigation.
Multilingual support to cater to the needs of a global audience.
Integration with other systems like CRM, helpdesk, and ticketing systems.
Web Chatbot features that would impact your bot performance:
With several alternatives available in the market, with varying expenditure points and features, at times, it can be challenging to choose the suitable one. There are many top providers of the best website chatbots for a variety of business applications based on specific industries. Here is what you need to know and understand about the features of a good chatbot!
Live Chat Handover
Provides users with fallback alternatives to speak to a real agent or end the chatbot engagement.
Determine the client issue's nature and immediately direct the user to the appropriate agent.
Employ tags and variables to collect user input, then communicate the information to the agent when the handover happens.
Customers and the bot should be able to easily grasp each other's discussions to quickly solve problems.
Bot Marketing
Identify the demands of the audience and move prospects through the sales process.
Contain relevant information and frequently asked questions.
Without requiring visitors to enter the website, it segments consumers and completes orders.
Ignore fully open-ended conversations to prevent any type of confusion.
Improvize your bot with data that cater to the needs of customers in a personalized way.
Bot Widget Customization
Welcome greetings can be set to begin a new conversation.
Can opt for a relevant website chatbot name catering to the needs of the business.
Appropriate display name that reflects your brand persona.
Give the right tagline aligning with the specific needs of the business.
Users may choose from a variety of bot avatars to get the ideal feeling.
Set priority option for bot & human agent that suits your business.
AI Bots
Enable dynamic and agile chats as their purpose tends to rely on bot flow patterns that connect.
NLP systems can comprehend human speech to provide well-tailored replies.
Measure the bot's performance regularly, improve its processes and replies, and train it to be more effective.
Use NLP and machine learning algorithms to easily understand the visitor's sentiment to respond dynamically.
Visual Flow Builder
Hassle-free and enables zero-code bot building.
Build your story using dialogue chunks that you can drag and drop.
There are several bot answer forms and actions available.
Design the bot with specific business requirements in mind.
A virtual assistant that can automate solutions to common problems and offer replies is simple to construct.
Support to Omnichannel Messaging
Simple implementation across a variety of platforms, including a website, Facebook Messenger, WhatsApp, etc.
maybe simply launched across channels without human integration, delivering a consistent consumer experience.
Website Chatbots can offer contextual assistance by way of pertinent information.
Companies may use omnichannel support to offer better solutions or conduct surveys of customer satisfaction.
Chatbot API
Businesses may utilize a website chatbot API to ensure that information flows seamlessly between their CRM and any other database.
Utilizes the interconnectedness of the current data and improves chatbot functioning.
By gaining access to app data, you may improve the efficiency and smoothness of human-chatbot interaction.
Let you deliver messages that are customized depending on the IP address or information about website visitors.
Data Security
End-to-end encryption prevents anyone other than the sender and recipient from accessing the message.
It ensures user identity verification and grants permission to do any operation with authentication and authorization.
Delete the sensitive message after a period to prevent any misuse of sensitive information.
Personal scans verify an individual identity when a transaction is initiated.
Emotional Analysis
Website chatbot comprehends the mood of the customer through sentence structures and verbal cues.
Respond differently depending on how clients feel, and divide the audience based on satisfaction levels.
Assist in the analysis of user data from social media, surveys, customer feedback, and product reviews to determine how well items are regarded.
Define sentiment categories and examine feelings in dialogues that are either objective, neutral, or positive.
Bot Analytics
The number of users who interacted with chatbots can be traced to get insights into the user- count.
Bounce rate or the website visitors that arrive but don't engage with your chatbot.
Observing the interaction rate KPI helps you measure user engagement during conversations.
Fallback rate will capture insights where the bot is unable to gauge the user request and offer a relevant solution.
Understanding the qualities of an excellent chatbot:
A good website chatbot will be created to fulfill a specific purpose, such as freeing up staff time, raising employee morale, or improving customer interactions. It is best to stand back and observe how the chatbot interacts with users. Does a chatbot for business use your voice? Can it speak their language and learn to know your personnel and customers? I hope this overview helps if you're still in the research stage. You can contrast bots that you are looking at or studying for comparison's sake to have a piece of greater knowledge.