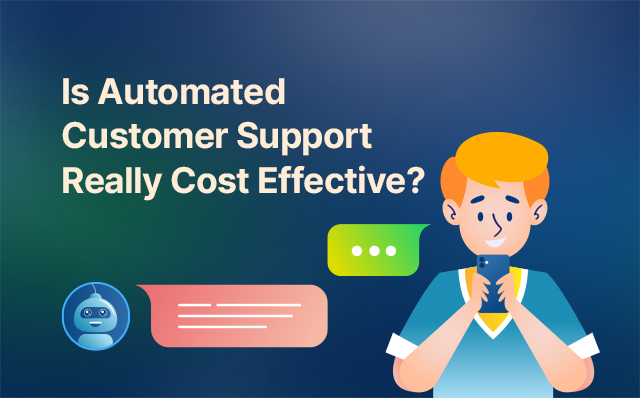 Businesses combated the epidemic by providing quality products and services while taking the utmost care of their clients and staff. Customer behaviour changes compelled them to expedite these bars. People in different nations prefer to acquire necessities, their allegiance has been disrupted, and online ordering is becoming more popular. Customer service has risen to the top of the list of priorities for many firms of all sizes in reaction to these changes.
Retaining consumers is essential for organizations to thrive, and it's necessary to take into account their changing wants. To strengthen resilience and cautiously manoeuvre through the crisis, leaders should think about redesigning procedures. As an entrepreneur, you should be aware of the benefits of investing in Automated Customer Support, which can reduce the stress on your support staff and enable firms to reliably serve clients.
Why Your Business Should Consider Customer Support Automation?
In recent years, the strategy for corporate sustainability must have been created around the principles of care, safety, and trust. You may restructure your process using technology and use data to provide better customer experiences. Here are six ways that Automated Customer Support can benefit your firm in the future:
1. Constant accessibility: Consumers frequently expect prompt, individualized responses to their inquiries. By automating customer service procedures, you may support consumers around-the-clock without taxing your staff.
2. Easily handle customer support: Time can be saved by automating routine procedures so that your agents can focus on more difficult problems. Chatbots powered by AI can personalize conversations while managing numerous inquiries at once.
3. Match the evolving customer expectations: Some companies with a smaller workforce are having a hard time keeping up with changing consumer demands. Since fundamental questions are handled by virtual assistants, automation of customer service can increase your support network.
4. Assist your employees and enhance workflow: Automation frees up your customer care representatives from tedious duties so they can focus on serving customers. Specialized technologies can speed up and simplify the assistance process when your workers work remotely.
5. Real-time analytics: Manually recording customer complaints, opening tickets, and assigning cases to employees can take time and frustrate customers. As prior communication from all channels is combined to provide in-depth insight into the problem, automation of routine and complaint assignment processes can assist agents in serving customers better.
6. Personalization: Chatbots allow customization to provide personalized replies to customers based on their interactions with the business. This help businesses build better relationships and provide clients with improved user experience.
Is Automated Customer Support Worth the Investment?
Investing in new hires and training may not be cost-effective for you if many teams are working remotely and are overworked. Investing in customer service automation can increase the output of your current workforce. AI solutions with conversational and voice capabilities provide the crucial personalized touch at a significantly cheaper cost than a human.
Keeping costs under control, Automated customer support or chatbots has been increasingly opted by businesses to offer round-the-clock customer service. While the cost-effectiveness of automated customer support is still under debate, here are a few reasons to back the fact:
Businesses can significantly reduce labour costs by eliminating the need for human customer service representatives to handle routine and repetitive inquiries. Automated customer support handles simple tasks such as answering FAQs, providing essential information, and helping customers with product troubleshooting.
Automated customer support handles millions of inquiries at the same time, which saves the waiting time of customers. This leads to increased customer satisfaction and loyalty, which results in repeat business, customer retention, and increased revenue.
IT leaders report that automation technology can save departments 10-50% on costs previously associated with manual processing. Chatbots offer 24/7 customer support, giving businesses an advantage over competitors and allowing them to cater to customers in different time zones. This saves costs associated with overtime expenses and extra maintenance costs for human power working beyond business hours.
Enhanced customer experience = saves cost
Studies show that poor customer service results in a 71% loss of consumers, often without contacting the company, and negative word of mouth. Customer support automation provides quick and accurate information, leading to higher NPS and CSAT scores, customer loyalty, and retention rates. More satisfied customers lead to higher retention rates.
Lower Implementation Costs:
Implementing automated customer support is often cheaper than hiring and training human customer service representatives. Chatbot development platforms are readily available and businesses can use them to build their chatbots without expensive custom development.
Customer support automation helps increase ROI
Opting for a customer support automation platform can drive sales and revenue beyond cost reduction. Conversational AI tools like chatbots and voice bots offer personalized experiences and improve with every interaction, leading to satisfied customers and positive word of mouth.
More queries; lower the support costs:
Automated customer support, such as voice bots and AI chatbots, can help companies handle millions of queries while reducing costs. Automation allows human agents to focus on important queries and reduces the number of agents needed in each vertical. This saves costs associated with hiring additional staff, labour, accommodation, and infrastructure, resulting in a 20-40% reduction in business costs on average.
Automated Customer support implementation factors.
Regarding automation, it's crucial to evaluate your needs properly. Search for a scalable solution. Growth is eventually made possible by automation. But when businesses develop, the value of that automated customer support is only as good as their capacity to do so in terms of both volume and other areas of the company. To adapt as your business expands, look for a system with a strong set of integrations. Also, take into account your available resources; updating outdated systems takes a lot of time, and money upfront, and isn't always economical.