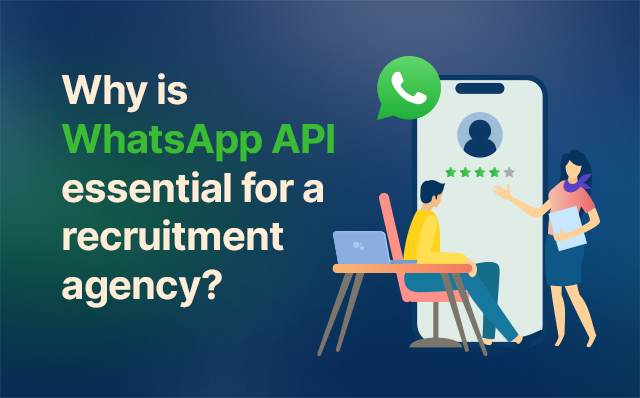 Recruitment agencies need to hire top talent quickly to avoid losing candidates to competitors which is time-consuming and overwhelming. You have to sift through piles of resumes, conduct numerous interviews, and follow up with candidates. WhatsApp is a messaging app that can help with this process, as candidates are more likely to reply quickly on their smartphones. 
Being a messaging app, it could be the next big thing in recruitment. As a recruitment agency, you can save time and automate some processes using WhatsApp Chatbot. Afterall, you can save money while reaching more students. Why is the WhatsApp API now predominantly essential for recruitment agencies?
WhatsApp API is to stay forever
Since the people the recruitment agency works with are dispersed throughout the world, it can be challenging to call them on the phone. When the connection is bad, you occasionally end up paying high international call rates. In contrast, WhatsApp is a VoIP service that enables you to make calls over WiFi or cellular data connections and is dependable and widely available. Similar platforms can experience connection problems and use a lot of data.
WhatsApp has unique advantages:
It's fast and you can use it on your phone or computer with quick notifications.
It's not widely used by recruiters, so you can stand out and not get lost in a long list of messages.
It's private. Responding to a WhatsApp message won't raise suspicion from managers like using LinkedIn or taking a phone call might.
Candidates use it frequently to communicate, so they check and send messages regularly.
Want to improve your remote recruitment process?
Try these WhatsApp API features with your recruitment agency:
It's free and similar to Facebook for Business page. Candidates can message recruitment agencies and brands over WhatsApp Messenger. Candidates prefer messaging a business rather than calling. So, make it easy for them to reach out over WhatsApp, which they are already comfortable using. WhatsApp has added useful features for recruitment teams like a quick-reply function for common questions and the ability to group contact lists. Use WhatsApp for your recruitment needs and give your candidates a better experience."
Broadcast lists for Bulk Texts
You can now send bulk messages to candidates using WhatsApp without creating groups. Using WhatsApp groups to communicate with candidates is not personal and poses GDPR issues. Luckily, WhatsApp has created a messaging feature that also allows a recruitment agency to create lists and send messages that appear as individual messages to each person on the list. This is a quick way to keep candidates engaged. You can create lists of up to 256 contacts, based on industry or skill set, and reach out to them with minimal effort. 
Video calling/ Video Recording
WhatsApp video calling is growing in popularity because it is more private, simple to use, and time-efficient than in-person meetings. It also makes it simple to record and send video messages to a recruitment agency. This is great for making your shortlists stand out during remote recruitment. You can create two-minute videos of candidates introducing themselves and send them along with their CVs to impress your clients. It works wonders!
With WhatsApp Business, a recruitment agency can send pre-written responses to start conversations without waiting for a response from your staff. You can ask your conversation partner questions and get some initial information to help filter and find potential candidates. You can also share job information and media files to engage with them. This will help make the onboarding process smoother.
Digitally Signed Documents
Signing contracts can be difficult for job seekers, especially when most interactions are online. Asking for physical contracts to be printed and sent is outdated, expensive, and time-consuming. With Sign via WhatsApp, for any recruitment agency signing documents digitally can be made easy, legally binding, and can make a difference in a candidate's job offer choice. You can invite candidates to sign digitally through the app, which is even more convenient than SMS or email. So, go digital and sign with Sign via WhatsApp!
A recruitment agency can boost posts about a job role and reach candidates outside of your community. Now, you can include a 'Send WhatsApp message' CTA button at the bottom of your post. To do this, make sure you're an admin for the Facebook page and have your WhatsApp Business account set up. Align your Facebook page and WhatsApp Business account with each other. When boosting your post, choose 'Send WhatsApp Message' from the available button options. This allows candidates to enquire about the role with just one click.
WhatsApp group communities
There are public WhatsApp groups for people with specific interests to connect with others who share their passion. These groups are a treasure trove for a recruitment agency looking for skilled individuals. By joining these groups you can gain invaluable insights about the current market in your area of recruitment. These open WhatsApp communities are popular worldwide and also gaining popularity in smaller, tech-savvy communities.
Make recruitment smarter with WhatsApp API
Recruiting with WhatsApp API is smart and helpful, yet underused. To stay competitive, the recruitment agency may use different tools, even those that may seem unusual. It is quick, adaptable, and private. You can expand your network and find people who are in demand, which will help you be more productive at work. Improve the recruitment process and so the candidate experience to attract top talent. Use one system instead of multiple to make the process efficient. Start using WhatsApp today to recruit smarter!