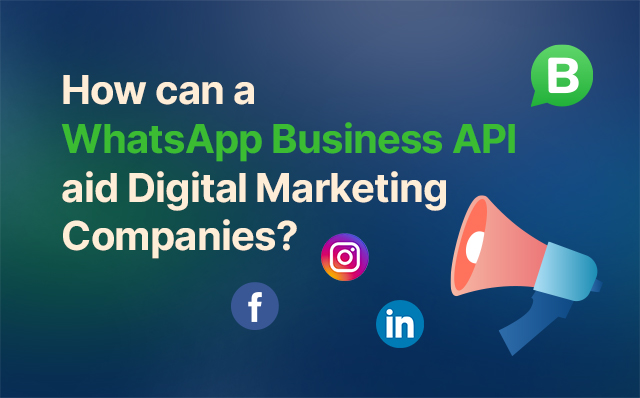 Introduction
In today's digital era, enterprises are constantly scouting for disruptive and innovative paths to improve their marketing strategies, to reach their target audience. With the rise of global messaging apps, such as WhatsApp, it has become exponentially important for businesses/enterprises to adopt these platforms and utilize them to their full potential. The WhatsApp Business API is a powerful tool that can aid digital marketing companies in achieving their marketing goals.
WhatsApp Business API is a dedicated messaging platform designed specifically for enterprises. It provides a secure, reliable, and personalized channel for enterprises to communicate with their customers. By integrating the API into their marketing strategies, digital marketing companies can leverage its features to create engaging and interactive experiences for their users/customers.
What is WhatsApp Business API?
WhatsApp Business API is a global communications platform designed for businesses to connect with their customers/users through WhatsApp, a popular messaging app. It allows enterprises to create and automate messages, send notifications, and provide customer support, among other value-added features. The API allows businesses to interact with their customers in a way that is efficient, convenient, and personal in the global arena.
The API enables enterprises to create a verified WhatsApp Business account, which gives them a whole arsenal of benefits. These benefits include the ability to utilize features such as WhatsApp chatbots, automated business messages, and offer messaging templates. It also allows businesses to respond to customer queries in a timely and efficient manner, increasing customer satisfaction and loyalty. With over 2 billion active users, WhatsApp is a powerful tool for businesses/enterprises to connect with their customers and establish meaningful and long-term relationships.
How can WhatsApp Business API aid Digital Marketing Companies?
Here are some of how WhatsApp Business API can aid digital marketing companies:
Personalized Messaging
One of the essential benefits of adapting to the use of WhatsApp Business API is the ability to send personalized messages to customers. By using customer data and behavior patterns, digital marketing companies can create targeted messages that resonate with their customers/users. This helps to build a stronger relationship with customers and increases their engagement with the business.
Personalized messages can be used to send product recommendations, offer promotions, and provide updates on new products and services released by your enterprise. By tailor-fitting these messages to your customer's preferences, digital marketing companies can ensure that their messages are well received and lead to higher conversion rates, in terms of sales and revenue. The higher the conversion rates, the greater will be your enterprise's brand value in the marketplace.
Automated Customer Support
Another benefit of WhatsApp Business API is its specialized ability to automate customer support. With the help of WhatsApp chatbots and automated messages, businesses and enterprises can provide 24/7 support to their customers. This saves time and resources for the business while also providing a better customer experience.
Chatbots can be programmed to handle frequently asked questions and provide basic support. This frees up customer support agents to handle more complex issues, improving response times and reducing customer wait times.
Notifications and Alerts
WhatsApp Business API can also be used to send notifications and offer alerts to customers. These notifications can include order updates, delivery information, and important news about the business/enterprise. By keeping customers informed and up to date, digital marketing companies can build trust and loyalty with their customers.
Notifications and alerts can also be used to promote your new products and services, offer special promotions, and provide updates on events and sales. This helps to keep users engaged with your enterprise and encourages them to become loyal users of your products and repeat purchases.
Group Messaging
WhatsApp Business API also provides the add-on ability to create groups and broadcast messages to them. This feature is useful for businesses/enterprises that want to communicate with a specific audience or segment of their customer/user base. For example, a business could create a group for customers who have recently made a purchase and send them targeted messages about related products or services.
Broadcasting messages through groups are also useful for promoting events and sales of your business/enterprise. By creating a group for customers/users who are interested in a specific event or sale, digital marketing companies can send targeted messages and updates to these customers, thereby positioning their target audience more refinedly.
End-to-End Encryption
One of the most important and quintessential features of WhatsApp Business API is its end-to-end encryption. This means that all messages shared between the business/enterprise and its customers/users are encrypted and cannot be accessed by anyone else. This provides a secure platform for businesses to communicate with their customers and ensures that their data and information are protected.
End-to-end encryption is especially important for businesses/enterprises that handle sensitive customer information, such as credit card details and personal information. By using WhatsApp Business API, digital marketing companies can ensure that their customer's data is protected and their privacy is maintained.
Conclusion
WhatsApp Business API can be an absolute game-changer for digital marketing companies looking to enhance their customer engagement and boost their overall performance. With its user-friendly features and ability to provide personalized customer support, the API can help businesses of all sizes create a strong brand image and establish long-lasting relationships with their customers/users. From automating messages to providing real-time support, WhatsApp Business API provides an array of tools that can help enterprises streamline their marketing efforts and drive better results in terms of revenue and growth. By integrating WhatsApp Business API into their marketing strategies, digital marketing companies can stay ahead of the competition and deliver exceptional customer experiences that drive growth and success toward achieving long-term goals.