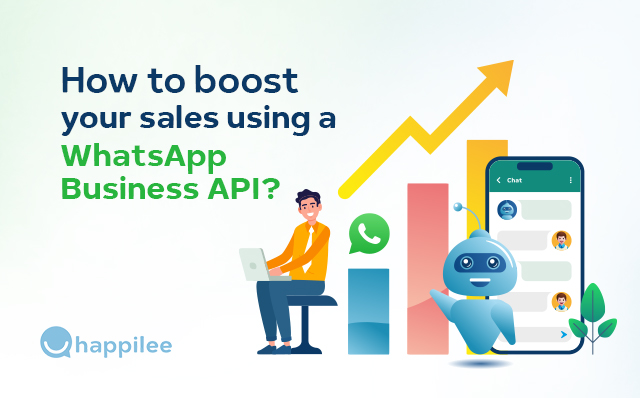 WhatsApp is a popular messenger platform, with over 100 billion messages have been delivered a day. It has billions of users all over the world. WhatsApp API is an application program interface that allows businesses to receive and answer unlimited WhatsApp messages, launched in 2018. It provides medium and large businesses with a personalized solution for scaling their customer engagement via WhatsApp. It is open for small-scale businesses too now. How can we use this platform for marketing and improving sales? Then here is the answer, WhatsApp chatbots.
What is WhatsApp Business API and who can apply for?
A WhatsApp chatbot is a chat associate powered by artificial intelligence in the WhatsApp messenger platform. It facilitates an automated chat between a person and the machine without human intervention. It will give a feeling similar to that of communicating with a real person. This makes it useful in automated sales and customer service. Any frequently asked question by a customer can be answered 24×7 without the help of a customer service agent. WhatsApp AI chatbot can be useful in improving the business more easily by boosting marketing of the products and services.
Why we need a WhatsApp chatbot in this post covid era, is a question that arises from many. In this post-pandemic world of digital marketing and the digital economy, using a popular messenger like WhatsApp to improve business is an easier way than any other method. WhatsApp is the biggest messenger platform with more than 1.6 billion users. It connects more than 400 million Indians. The spread of covid 19 and lockdowns across the globe increased the number of users accessing WhatsApp. WhatsApp is an ideal platform to reach more customers. The competition between companies is in attracting more customers to their services. Reaching more customers will boost the business via WhatsApp business solutions. Here comes the role of WhatsApp AI chatbots.
Why chatbots
Sales automation
Cost effective
Boost business
Save time
Faster customer service
Can be created in minutes
24×7 service
Website plugins
40+ language supported
Performance monitoring and reporting
Opt-in management
How it can be helpful?
Auto-reply to FAQs
Resolve issues
Answer the questions about products and services
Send information about payment, refund, and delivery
Marketing and promotions
happilee.io – a complete WhatsApp chatbot builder
Now you understood what is a WhatsApp AI chatbot and its uses. The next question must be probably how can we build a chatbot on WhatsApp. Happilee is a perfect answer to that question. Happilee can build chatbots for your business in the way you want and provide WhatsApp business solutions.
The advantage of the chatbot is that even if you are not available 24×7, your product or service will be. It looks like a normal WhatsApp only, and no more complications. Every conversation feels normal and natural only.
Happilee acts like your personal assistant in solving customer queries. With the help of a chatbot, you can easily manage customer conversations. It will help you in easy lead generation and will attract more customers to your products and services. Customised sales flow is another reason for choosing happilee. We consider your service requirements and you can prepare your flow to manage clients. Parameters can be added accordingly.
Happilee helps you to build a chatbot which can handle customers humanly. It gives automatic replies without any delay and ensures that you won't miss any customers. We ensure to manage customer FAQs without the need for human intervention with custom auto-replies. It gives instant replies to all your chats. It will encourage customers to return and shop at your store by answering their questions promptly. When a message is sent via chatbot it opens a 24-hr long window. After the 24-hr the chat closes automatically, i.e., it simply closes deals without human attention.
Happilee helps you to send unlimited broadcast messages via WhatsApp API.  Thus, sending bulk messages to the masses through WhatsApp API, improve marketing and reduces cost. Already set templates are used for bulk messaging and also ensure WhatsApp approval. It enables you to send 100 WhatsApp messages in five minutes.
In addition to that, it integrates user data into Google sheets and we can simply sort out data. Contacts can be uploaded in bulk. It is possible to import N number of contacts in CSV format. Also, the chatbot can be integrated into your website or social media. Happilee helps you to stay organised by making contact management using tags, labels, smart cards and private notes. Moreover, media and documents can be attached and delivered through the normal chat. The chatbot can work with your CRM as well.
Why Happilee?
Happilee helps to launch WhatsApp sales for your brand. It ensures operator management with 5 free operators. Bulk messaging is made possible via WhatsApp API platform. It opens a new world of marketing possibilities for your business. Other features of happilee are: –
Natural messaging by AI
Cross-platform integration
Free google sheet integration
Customization available
5 free operators
Free integration with CRM, Website, and social media
Analysis in a single dashboard
Unlimited customer support
Facebook page verification support
WhatsApp verification support
A good chatbot will attract and retain more customers by reaching the masses at a large scale through WhatsApp API platform. For a company, without a chatbot, it is quite difficult and costly to answer the FAQs of customers. User-friendly chatbots are crucial in deciding your place in the economy.happilee build WhatsApp chatbots in minutes and helps in making your business easier with WhatsApp business solutions. Happilee provides customized chatbots in WhatsApp which will enable you to interact freely and conveniently with your customers. Your clients will get their queries answered within seconds. With the right conversation design, happilee creates personalized WhatsApp chatbots the way you want which is going to give a mind-blowing experience to your customers. Why are you waiting? Choose happilee and boost your business happily.