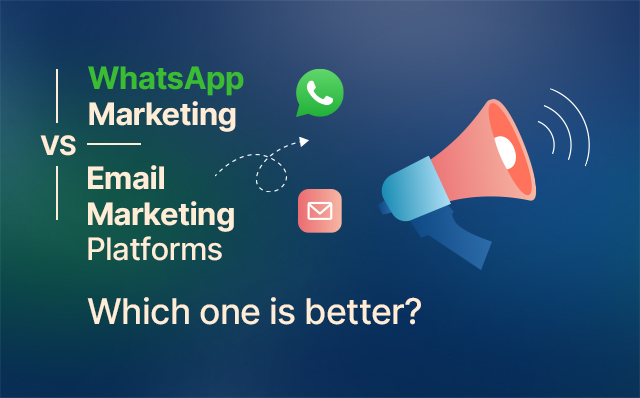 WhatsApp and Email marketing are two powerful tools that can be used to reach out to potential customers. While both share the common purpose of connecting with customers, they differ in terms of the range they offer. It's important to understand how WhatsApp and Email work and the pros and cons of each, so you can make an informed decision as to which one is right for your business. In this blog, we will compare WhatsApp marketing vs. email marketing and discuss how each can benefit your company.
What is WhatsApp Marketing?
WhatsApp Marketing is a new digital marketing strategy that involves using the popular messaging app WhatsApp to connect with customers and promote products or services. It is a form of direct marketing that allows businesses to communicate with their customers in real time and on a more personal level. WhatsApp has over 1.5 billion monthly active users, making it a powerful marketing platform with a wide reach.
With WhatsApp Marketing, businesses can send text, image, audio, or video messages directly to their customers' mobile phones. This allows them to share product information, promotions, offers, and other marketing messages. It also allows for two-way communication, allowing customers to ask questions, provide feedback, or make inquiries.
What is Email Marketing?
Email marketing is a direct marketing strategy that involves sending commercial messages, usually to a group of individuals, via email. Essentially, any email message sent to a potential or existing customer to promote a product or service can be classified as email marketing. However, the term is usually used to refer to more targeted, strategic efforts aimed at developing relationships with customers or transforming customer behavior.
Email marketing can be an effective way to stay in touch with customers and prospects, promote your products and services, and build brand awareness. It can also be used to generate leads, nurture prospects, and close sales. When properly executed, email marketing can be an extremely powerful tool.
The Pros and Cons of WhatsApp Marketing
Although WhatsApp Marketing has some advantages over email marketing, there are also some disadvantages that you should be aware of before deciding if it is right for your business.
Advantages:
WhatsApp Marketing pays off to a huge extent than any other marketing channel, mainly because of the trust the platform has earned in the general strata of society. The personalization feature and increased engagement rates in WhatsApp together contribute to higher conversion rates for any business.
With WhatsApp, it is possible to send both one-to-one messages and group messages, allowing for more personalized and targeted marketing communications. This can ultimately result in higher rates of engagement with your audience.
Studies have shown that WhatsApp messages have higher open rates than email messages. This means that more people are likely to see and engage with your marketing message when it's sent via WhatsApp.
Disadvantages:
The extra layer of privacy that WhatsApp offers to its users through the feature of turning off read receipts makes it difficult to track whether your messages are read by the person or not.
WhatsApp marketing can be considered intrusive since people generally use the app for personal messaging rather than for receiving commercial messages.
You may need to invest in creating high-quality visuals and videos for your WhatsApp messages since text alone may not be enough to capture attention.
The Pros and Cons of Email Marketing
Email marketing can be a very effective way to promote a business, but it also has its own set of pros and cons.
Advantages:
The cost-effectiveness of email marketing lies in the fact that it does not require a lot of resources or budget to reach a large audience.
Businesses can target specific groups of people based on their demographics, interests, or past behaviors with email marketing.
Open rates, click-through rates, and conversion rates can be tracked with email marketing, providing valuable insights into campaign effectiveness.
Disadvantages:
Email marketing campaigns can be blocked by email filters or marked as spam, making it difficult for the emails to reach their intended recipients.
Every day, people receive a lot of emails, which makes it easy for email marketing messages to get lost or ignored.
People may unsubscribe from email lists if they feel they are receiving too many emails or irrelevant messages.
Which One is Better?
WhatsApp marketing and Email marketing are both effective ways to reach out to potential customers.
So, which one is better? It depends on what you are looking for in a marketing strategy. If you want to be able to reach out to potential customers quickly and easily, then WhatsApp marketing may be the better option for you. If you want to be able to send out the more detailed information and promotional material, then email marketing may be the better option for you.
So, which one is better? No doubt that WhatsApp Marketing leads the way.
Email Marketing was a game-changer for enterprises, and boosted their growth and revenue to unknown levels. But with the evolution of social media platforms like WhatsApp, Email Marketing has lost its charm since its performance numbers are nowhere near those of WhatsApp.
With increased open rates and higher conversion possibilities, WhatsApp has the potential and capability to skyrocket businesses to enormous extents. If done rightly, WhatsApp Marketing can become a significant success factor in a business's growth journey. To the level that WhatsApp has grown to become an essential component of people's daily lives, it's the right time now to leverage the platform to bring your business to the marketplace center.
Conclusion
WhatsApp marketing and email marketing offer businesses a variety of ways to reach out to their target audiences. Both have the potential for successful campaigns, but it is crucial to consider which platform will be the most effective for your company's specific goals. WhatsApp offers direct, real-time engagement with customers, while emails are more easily automated, making them better suited for large or one-off campaigns. Ultimately, it is up to you as the marketer to decide which technique works best, based on your objectives and available resources.