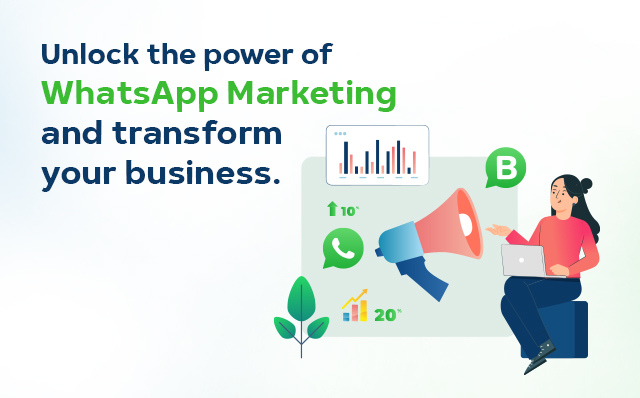 Whatsapp and Whatsapp marketing is essential for both personal communication as well as for business purposes.
With over 2.44 billion users globally, WhatsApp is undoubtedly one of the most popular messaging apps.
It's so prominent that by understanding who's using it and how we can strategize our businesses in a better manner.
There are multiple reasons for WhatsApp to hit the bar above all others. Here are some of them:
WhatsApp was the first free messaging app to connect Android and iOS users, making communication hassle-free.
It provides instant messaging with on-screen notifications.
WhatsApp's user interface is simple and intuitive.
One can instantly share files in different formats, like images, videos, documents, etc.
With an arsenal of features, the messaging app can drive your revenue and growth to new heights.
What is WhatsApp Marketing?
The utilization of WhatsApp as a marketing avenue to advertise a company's offerings and services is known as WhatsApp Marketing. This method empowers brands to interact actively with potential customers, boost sales, provide customer support, and attain large-scale customer retention.
By offering a wide range of customization possibilities, WhatsApp gives businesses an upper hand to kick-start their marketing efforts and carve an effective way to drive conversions and revenue.
In simpler terms, WhatsApp marketing is a form of one-on-one marketing where companies utilize WhatsApp Messenger as a part of their marketing strategy or even conduct an entire marketing campaign through the app.
Consumers use WhatsApp daily to communicate with friends and family, and brands are willing to use these platforms to communicate with consumers. Because messaging apps like WhatsApp have capabilities to facilitate business communication, this medium has become one of the fastest ways to market in recent years.
Why use WhatsApp Marketing?
Apart from being extremely popular, WhatsApp enables you to have more engaging and one-on-one real-time interactions with your customers.
WhatsApp marketing remains largely untapped and provides an advantage for those who start early.
In contrast to Facebook and Google, WhatsApp has a user-centered approach by providing Message Templates for marketing promotion instead of ads. This approach allows users to grant access to brands or companies they have previously engaged with, resulting in a higher level of trust in these interactions and a higher likelihood of engagement and conversion.
5 WhatsApp features to kick-start your business
1) Business Profile
WhatsApp allows companies to establish their brand presence by creating a profile with key information such as contact details, email, website, and a brief business description.
This serves as a foundation for promoting the brand and helps establish trust with potential customers.
For small business owners, the business profile serves as a virtual placard/identity for their growing business.
2) WhatsApp Web
The web-based version of the messaging app helps businesses to manage their chats and respond to messages from their computer, making it easier and faster to respond to customers. This will help improve the business's productivity and reduce response time.
Businesses can use the WhatsApp Web feature to share files and documents with customers, making it easier to share information.
WhatsApp Web can be used to manage e-commerce transactions and to communicate with customers from their computers. This will provide a convenient and seamless shopping experience for customers.
Creating and managing marketing campaigns and responding to customer queries from their computer becomes a piece of cake with WhatsApp Web. This feature is a lifesaver for businesses handling a large volume of user flow and queries.
3) Broadcast
Businesses can use the Broadcast feature to provide their clients with quick and personalized customer service. They can answer customer queries and provide support by sending messages to a specific group of customers. This will reduce the workload on the customer service team and improve the response time.
The broadcast feature can send promotional messages, new product announcements, and discounts to a targeted group of customers, eventually increasing customer engagement and helping drive sales.
The Broadcast feature can be utilized to send out feedback and survey requests to their customers. This will help businesses gather valuable insights about their products and services and improve the customer experience.
4) Multimedia Catalog
This feature allows businesses to create and share a catalog of their products or services with their customers and potential customers.
Businesses can use the Multimedia Catalog feature to create a virtual product catalog and showcase their products with images and descriptions.
This feature can also be used to create a service catalog and showcase the services they offer. This will help customers understand the services offered by the business and make informed decisions.
5) Group Chats
This feature is a valuable tool for businesses to improve their internal and external communication. Businesses can use the Group Chat feature to create a chat group for customer support, allowing for quick and efficient resolution of customer queries.
Businesses can leverage chat groups for marketing and sales, contributing to greater customer retention and increased revenue.
The most important and powerful use of this feature is to help build a community that concentrates on the business and its products, improving customer engagement and boosting brand value.
Is WhatsApp marketing profitable for your business?
Pretty much, yes!
Here are 3 rock-solid reasons to validate this:
Wider demographic reach
Real-time customer service and support
High ROI
If done correctly, WhatsApp marketing can be a profitable and effective marketing tool for businesses. By reaching a large audience and building personal relationships with customers, WhatsApp marketing is the way ahead to kick-start your business' growth trajectory.
Conclusion
Marketing in the "new normal" boils down to time-sensitive aspects – crisis communications, empathy-based approach, humanizing your brand, and cost-effective strategies.
WhatsApp can be defined as a"feature-rich platform that is cost-effective, personalized, and a great channel for one-on-one communication."
It's important to remember that WhatsApp shouldn't be a primary marketing tool, like a CRM or email marketing software. Instead, it should be a channel to amplify your marketing efforts and help people connect easily with your brand.