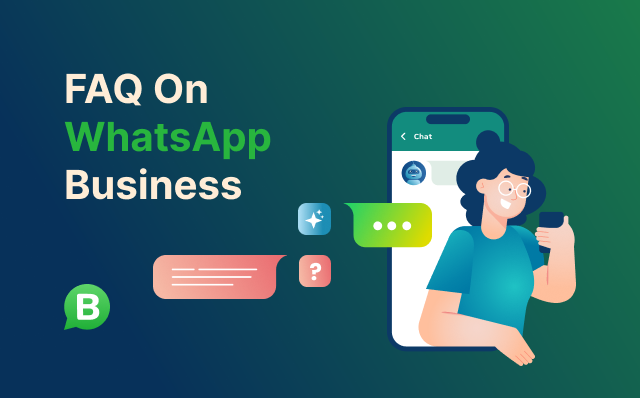 1. What is WhatsApp Business?
WhatsApp Business is a separate messaging app designed to help businesses communicate with their customers. WhatsApp Business is a specialized communication tool designed to facilitate interactions between businesses and their customers. In addition to enhancing customer engagement, it streamlines communication among businesses. You can learn more about WhatsApp Business here:
Professional Business Profile: Create a polished business profile with essential information.
Dedicated Business Number: Maintain a separate number for business communications, ensuring privacy.
Messaging Tools: Use quick replies, automated greetings, and message templates for efficient customer interactions.
Multimedia Sharing: Share images, videos, documents, and locations to enhance communication.
WhatsApp Web: Access and manage conversations conveniently from your desktop.
Business Verification: Gain customer trust with a verified green checkmark badge.
Security and Privacy: Prioritize data security and follow WhatsApp's guidelines.
Understand this process in detail: https://www.happilee.io/how-to-create-a-whatsapp-business-account-a-step-by-step-guide/
2. How do I download WhatsApp Business?
To download WhatsApp Business, follow these steps:
Go to your device's app store, such as the Google Play Store for Android devices or the Apple App Store for iPhones.
In the search bar, type "WhatsApp Business" and "Search."
Find the WhatsApp Business app in the search results and tap on it.
Click on the "Install" (for Android) or "Get" (for iPhone) button.
Once the download and installation are complete, open the WhatsApp Business app.
Follow the on-screen prompts to verify your business phone number, set up your business profile, and customize your settings.
You're now ready to use WhatsApp Business to connect with your customers and manage your business communications efficiently.
3. Is WhatsApp Business free to use?
WhatsApp Business is generally free to use for basic features. You can create a business profile, interact with customers, and send text messages at no cost. However, some additional services, such as WhatsApp Business API, may involve fees, depending on your usage and the service provider you choose. It's essential to review WhatsApp's official pricing and terms to understand any potential charges associated with your specific business needs.
4. Can I use WhatsApp Business for personal messaging?
WhatsApp Business is initially designed for business-related communication, and it is recommended to use exclusively for business purposes. While you can use WhatsApp Business for personal messaging, it's important to keep in mind that there are some limitations and distinctions:
Dedicated Number: WhatsApp Business requires a separate phone number from your personal WhatsApp account. This means you'll need a dedicated business number to use WhatsApp Business.
Professional Profile: WhatsApp Business encourages users to create a professional business profile, which includes business information and contact details.
Business Messaging: The features and tools within WhatsApp Business are tailored for business communication, such as automated responses and message templates.
Using WhatsApp Business for personal messaging may lead to confusion, as the contacts you communicate with will see your business profile. It's generally recommended to use the regular WhatsApp app for personal conversations and reserve WhatsApp Business for business-related interactions.
5.What features does WhatsApp Business offer?
WhatsApp Business provides essential features such as a professional profile, a dedicated business number, messaging tools, multimedia sharing, WhatsApp Web access, business verification, security, and real-time customer engagement. You can find a detailed explanation in the response to the first question about WhatsApp Business.
6.How do I create a business profile on WhatsApp Business?
To create a business profile on WhatsApp Business, follow these steps:
Download WhatsApp Business: If you haven't already, download the WhatsApp Business app from your device's app store. It's available on both Android and iOS platforms.
Open the App: Once installed, open the WhatsApp Business app on your device.
Verification: Follow the on-screen instructions to verify your business phone number. WhatsApp will send a verification code to your phone number via SMS. Enter this code to confirm the ownership of the number.
Business Profile Setup:

After verification, you'll be prompted to set up your business profile.
Fill in your business name, which will be visible to customers.
Upload a profile picture or business logo to help customers identify your business visually.
Provide a brief business description, summarizing your products or services.
Include your business address to make it easier for customers to locate you.
Specify your business hours, so customers know when you're available.
If applicable, add your business website for more information.

Review and Save: Carefully review the information you've entered. Once satisfied, click "Save" to create your business profile.
Customize Settings: You can further customize your settings by accessing "Business Settings" in the app. Here, you can configure messaging tools, set up automated responses, and customize your greeting message for new customers.
Start Interacting: With your business profile set up, you're ready to start interacting with customers. You can respond to messages, use messaging tools like quick replies, and provide real-time support.
Creating a business profile on WhatsApp Business is a straightforward process and is the first step toward building a professional presence for your business on the platform.
7.What is the difference between a standard WhatsApp account and a WhatsApp Business account?
Standard WhatsApp Account:
Personal Use: Standard WhatsApp accounts are intended for personal use. They are typically used by individuals to connect with friends and family.
Profile: Personal WhatsApp accounts have a standard profile with the user's name and a personal photo.
Usage Restrictions: Using a standard WhatsApp account for business purposes is against WhatsApp's terms of service. If detected, it can lead to the account being banned.
WhatsApp Business Account:
Business Use: WhatsApp Business accounts are designed exclusively for businesses. They are intended for businesses to communicate with their customers and clients.
Business Profile: WhatsApp Business accounts have a professional business profile that includes the business name, description, address, business hours, website, and a dedicated business phone number.
Messaging Tools: WhatsApp Business offers specialized messaging tools, such as automated greetings, quick replies, and message templates, to streamline business communication.
Business Verification: Businesses can undergo a verification process, which results in a green checkmark badge next to their name, increasing customer trust.
Usage Compliance: WhatsApp Business accounts are allowed for business purposes and are compliant with WhatsApp's terms of service.
Both standard WhatsApp accounts and WhatsApp Business accounts use the same messaging platform, they are intended for different types of users. Standard accounts are for personal use, while WhatsApp Business accounts are for businesses to engage with their customers professionally and efficiently. Using the appropriate account type ensures compliance with WhatsApp's policies and enhances the business's online presence.
8. Can I use WhatsApp Web with WhatsApp Business?
To check if WhatsApp Business is now compatible with WhatsApp Web, please follow these steps:
Open WhatsApp Business on your mobile device (iOS or Android).
Tap the three dots menu icon in the top-right corner (for iOS) or the three vertical dots in the top-right corner (for Android) to open the menu.
Look for and select the "WhatsApp Web" option.
If WhatsApp Business is now compatible with WhatsApp Web, you should be able to scan the QR code displayed on the WhatsApp Web website using your phone's camera to log in.
Keep in mind that app features and compatibility can change, so it's a good idea to check the official WhatsApp Business website or app store listings for the most up-to-date information regarding WhatsApp Business and WhatsApp Web compatibility.
9. How can customers find my WhatsApp Business profile?
WhatsApp Business provides several ways for customers to find your business profile:
Phone Number: When you set up WhatsApp Business, you will use a dedicated business phone number. Customers can find your business by searching for this phone number on WhatsApp.
Business Name: You can set a business name in your WhatsApp Business profile. This name is visible to customers and can be used for search. It's important to note that the business name should accurately represent your business and comply with WhatsApp's guidelines.
QR Code: WhatsApp Business allows you to generate a QR code that customers can scan to easily start a conversation with your business. You can share this QR code on your website, social media, business cards, and other marketing materials.
Short Link: WhatsApp Business provides a short link that you can share with customers. This link will open a chat with your business on WhatsApp when clicked.
WhatsApp Business Directory: Some regions have WhatsApp Business directories where businesses can list their profiles. Customers can search for businesses in these directories by name or category.
WhatsApp Business Buttons: You can add a "Message" button or widget to your website or Facebook Page. When customers click on it, it will open a chat with your business on WhatsApp.
Location Sharing: If you have a physical location, you can share your location using WhatsApp. Customers nearby may discover your business when they search for businesses in their vicinity.
WhatsApp Business API: If your business uses the WhatsApp Business API, you can integrate WhatsApp into your customer service systems and applications. Customers can initiate conversations with your business through various channels, such as your website or app.
It's essential to optimize your WhatsApp Business profile by providing accurate and complete information, using a professional profile picture, and maintaining quick and helpful responses to customer inquiries. This can enhance your business's visibility and reputation on WhatsApp.
10. Can I schedule messages on WhatsApp Business?
WhatsApp Business does not have a built-in message scheduling feature, but you can use third-party tools for scheduling.
Here's a general process for scheduling messages on WhatsApp Business using a third-party scheduling tool:
Find a reputable third-party WhatsApp scheduling tool or service that suits your needs. There are several available online, but be cautious and choose one that respects your privacy and adheres to WhatsApp's policies.
Sign up or log in to the scheduling tool or service.
Follow the tool's instructions to connect it to your WhatsApp Business account. This usually involves scanning a QR code with your phone.
Compose the message you want to schedule and select the date and time you want it to be sent.
Confirm the scheduling settings and save the message.
The third-party tool will send the scheduled message on your behalf at the specified time.
Please keep in mind that using third-party tools may have limitations, and WhatsApp's policies can change. Therefore, it's important to verify the current capabilities and any policy updates related to scheduling messages on WhatsApp Business. Additionally, always ensure that you are using legitimate and reputable third-party services to avoid potential security or privacy risks.