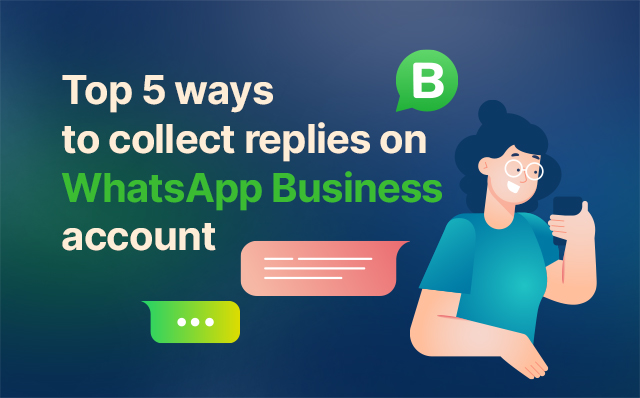 Keeping in touch with clients is essential for success in today's fast-paced business world. Businesses now have a potent weapon to improve communication and expand their operations with the introduction of WhatsApp Business API and chatbots. Any organization wanting to enhance its goods, services, and general clientele will find consumer feedback valuable. WhatsApp offers clients a simple and comfortable venue to give their opinions, making it more straightforward for businesses to gather insightful data. Delve into the top 5 ways to collect replies on your WhatsApp Business Account using chatbots, and how it can help you elevate your business to new heights of success.
What Makes WhatsApp the Best Platform for Consumer Feedback Gathering?
WhatsApp is the ideal tool for getting customer feedback because of its substantial user base and high level of interaction. 30% of the global total, or even more than 2.4 billion individuals, use WhatsApp.. 68% of people think it's the simplest method to contact businesses, with a 99% open rate and 40% response rate on messages. Moreover, WhatsApp Business Account has an "instant messaging" function that enables speedy message sending, phone and video calls, and file sharing in real-time, enabling seamless communication regardless of place and time zone. WhatsApp users send over 100 billion messages and spend over two billion minutes on voice and video calls per day, indicating high interactivity among users, which extends to building the relationship between businesses and customers. Here are some reasons why you should consider using WhatsApp to collect customer feedback:
Wide User Base: WhatsApp brags over 2 billion active users worldwide, making it one of the most widely used messaging apps. By using WhatsApp to collect customer feedback, you can reach a large audience, regardless of their location, and gather diverse insights to improve your business.
Instant Communication: WhatsApp allows for real-time communication, enabling businesses to receive messages from customers. This helps you identify and address any issues or concerns promptly, showing your customers that their feedback is valued.
Familiar and Convenient: WhatsApp Business Account allows customers to provide feedback on their terms, without the need for additional apps or complicated processes.
Rich Media Capabilities: WhatsApp supports various types of media, including text, images, videos, and voice messages. This allows customers to provide feedback in different formats, making it more engaging and insightful for businesses.
How can you make Customers Respond to Your WhatsApp Business Account Messages?
Create Automated Surveys:
Chatbots can be programmed to send automated surveys to customers, collecting their feedback on specific areas of your business. Customers can simply respond to the survey questions via WhatsApp, and the chatbot automatically collects and analyze the responses for further action.
Feedback Requests:
Chatbots send personalized feedback requests to customers after they have made a purchase or used your services. Consumers can comment with their opinions and recommendations, giving you important information about their experiences.
Polls and quizzes:
You can deliver polls and quizzes to customers via WhatsApp Business Account and gather their answers using chatbots. This not only aids in feedback gathering but also gives the client experience a more interactive feel.
Open-Ended Questions:
Customers can be prompted to provide extensive feedback by having chatbots ask them open-ended questions. Consumers can comment with their ideas, suggestions, and feedback, giving you important information for enhancing your company.
Complaint Resolution:
Chatbots can be used to handle client complaints and get input on the problems that customers are having. Customers can simply send their complaints via WhatsApp, and the chatbot can collect the necessary details to resolve the issue and gather feedback for improvement.
Here are 5 Best ways to collect replies on your WhatsApp business account:
Promote Opt-in Messages:
Request your customers to reply with specific keywords or responses to join your WhatsApp communication list. You can send a broadcast message asking customers to reply with "YES" if they want to receive updates, promotions, or customer service through WhatsApp. This allows you to collect replies and engage with interested customers.
Use Polls and Surveys:
Create interactive polls or surveys using WhatsApp Business API or chatbot tools. You can send polls or surveys to your customers and ask them to reply with their choices or feedback. Polls and surveys are a great way to collect quick feedback, opinions, or preferences from your customers and encourage them to reply with their responses.
Implement Chatbots:
Chatbots can be programmed to automate conversations and prompt customers to reply with their responses using a WhatsApp Business Account. They can also provide personalized responses based on customer inputs, making it an efficient way to collect replies and engage with customers.
Offer Incentives:
Provide rewards or offer a discount code, a freebie, or exclusive access to promotions or events in exchange for their replies. Incentives can motivate customers to engage with your messages and provide their replies, resulting in higher response rates.
Use Interactive Templates:
WhatsApp Business API provides interactive templates such as buttons, quick replies, and multimedia messages that allow customers to easily respond with a single tap. You can create templates with predefined responses, making it simple for customers to reply without typing a text response improving the user experience.
Streamline Your Feedback Collection with WhatsApp Business Account
It's a competitive business landscape. And customer feedback is a goldmine of insights to help you improve your products, services, and user experience. WhatsApp Business account, coupled with chatbots, delivers a strong platform to collect customer feedback in an opportunely, efficient, and personalized manner. By automating the process of collecting customer feedback on WhatsApp, you can streamline your operations, save time and resources, and gather valuable insights for business growth. So, do miss not out on the opportunity to leverage your WhatsApp Business account and chatbots to automate conversation and take your business to new heights!