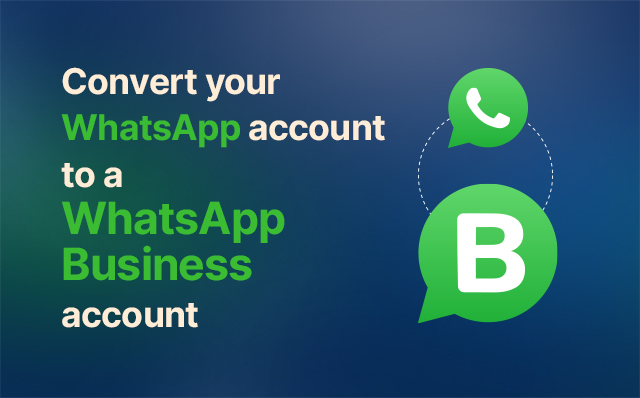 In recent years, WhatsApp's feature for businesses around the world, WhatsApp Business Account, empowers businesses to interact widely with their market customers more efficiently and professionally. WhatsApp Business Account offers a broad arsenal of professional features, such as automated messages, customer support, and analytics to track the performance of your account. If you're a small-scale or medium business owner, it's indeed quintessential to convert your regular WhatsApp account to a WhatsApp Business Account to take maximum leverage of these benefits and enhance your customer engagement.
Converting your regular WhatsApp account to a WhatsApp Business Account is a seamless process that can be completed in a few simple steps. Once you have successfully converted your account, you will have extended access to a basket of features that are specifically designed for businesses and enterprises. These features include a business profile that displays your business information, such as your address, website, and hours of operation, and the ability to create a catalog of your products and services that customers can view directly from your WhatsApp Business Account.
You will have absolute access to WhatsApp Web and WhatsApp Desktop, which allows you to manage your WhatsApp Business account from your computer. Overall, converting your regular WhatsApp account to a WhatsApp Business Account can help you connect with your customers in a more professional manner and take your business to the next level, opening up new horizons for your enterprise.
Features of WhatsApp Business Account
The WhatsApp Business Account is heavily packed with a huge arsenal of value-added features that enable businesses and enterprises around the world to connect with their customers in a more efficient and professional manner. One of the standout features is the WhatsApp Business profile, which allows businesses globally to provide essential information such as their enterprise address, registered official website, and regular hours of operation. This information can be critical in helping customers find and engage with a business and choose the products and services they would like to opt for.
Another significant feature of the WhatsApp Business Account is the added ability to create automated messages for your customers and users. This particular feature can be customized to include greetings, quick replies, and away messages, allowing businesses and enterprises to respond promptly to customer inquiries and establish better communication. This mass messaging feature of WhatsApp Business Web saves a big chunk of time and resources by automating frequently asked questions (FAQs) or providing essential business information to customers without the need for human intervention, thereby empowering customers to take more action, resulting in handing out more power to the customer/target user. Eventually, it contributes to building up the customer database of a business/enterprise.
Speedy resolvent of the queries of customers and providing absolute end-to-end support to target users is a crucial factor in deciding a business's brand image and position in the marketplace. In today's era where tools like WhatsApp Business Web can take care of such essential aspects of business, enterprise owners can comfortably channel more of their efforts toward other important aspects of their business.
Transform to WhatsApp Business Account
Converting your regular WhatsApp account to a WhatsApp Business Account is a seamless process that can be completed by anyone in just 6 simple steps:
Download the WhatsApp Business app from the Google Play Store or Apple App Store and install it on your device.
Open the WhatsApp Business app and verify your business's official phone number for authentication purposes.
If you already have a regular WhatsApp account with the same phone number, the WhatsApp app will ask you if you want to convert that account to a WhatsApp Business Account. Here, click "Agree and Continue" to proceed.
If you don't have an existing regular WhatsApp account with the same phone number, you can create a new account and choose "Business Account" as the account type.
Once you have converted your regular WhatsApp account, you can set up your enterprise's profile by adding your business name, official logo, address, company website, and regular hours of operation.
Now you can start using the WhatsApp Business Account to communicate with your customers by sending automated messages, creating a product catalog, and providing customer support.
Overall, converting your usual WhatsApp account to a WhatsApp Business Account is a straightforward process that can help you take advantage of the platform's business-specific features and improve your enterprise's communication with customers.
WhatsApp Business over WhatsApp
While WhatsApp and WhatsApp Business share many similarities, there are several key differences between the two platforms that businesses should be aware of in order to leverage the maximum:
Purpose: The first and foremost difference between WhatsApp and WhatsApp Business is most certainly their primary purpose. WhatsApp is a messaging app that is basically used for personal communication, while WhatsApp Business is a separate app designed specifically for businesses to communicate with customers and interact with potential target users.
Features: A WhatsApp Business account, along with WhatsApp Business Web, gives you a basket of features that are unavailable on the standard WhatsApp app, such as the ability to create and customize your enterprise's business profile, set up automated messages, build and showcase a product catalog, and track messaging metrics such as delivery rates and response times. All of these help in better customer retention and in building a strong user database.
Terms of Service: The terms of service for WhatsApp Business accounts are different from those of the standard WhatsApp app. For example, enterprises are required to verify their account and agree to specific policies related to spam and automated messages, in order to safeguard users' data and maintain privacy barriers.
While WhatsApp accounts and WhatsApp Business accounts may appear similar on the peripheral, the differences between the two platforms are very significant and can have a large impact on how businesses use them to communicate with customers. Understanding these differences can help businesses choose the platform that best suits their needs and optimize their communication strategy and customer interaction channels.
Conclusion
Using WhatsApp Business can be a level booster for businesses looking to take their communication with customers to the next level. WhatsApp Business Web's business-specific features such as automated messages, product catalogs, and customer support tools can enhance overall customer satisfaction and help businesses establish a more professional and personalized relationship with their clients. By providing a streamlined and efficient means of communication, WhatsApp Business can help businesses reach a wider audience, increase sales, and grow their enterprise. Said right, leveraging the capabilities of WhatsApp Business can be a valuable investment for any business looking to succeed in today's competitive market.