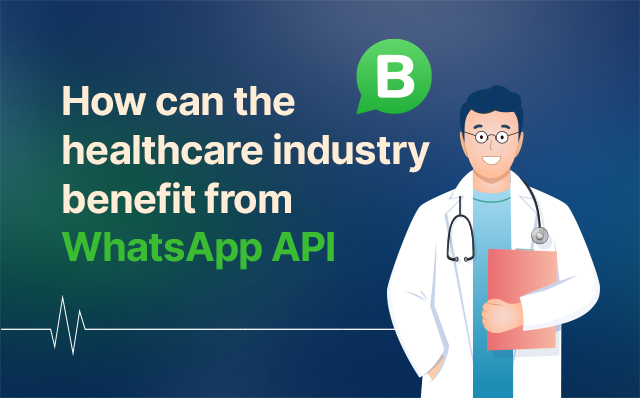 The ongoing digital revolution and the emergence of technologies make it quite demanding for enterprises to uphold differentiation based on pricing or the products it offers. As businesses face challenges due to digital advancements, they need to find ways to enhance customer experiences and maintain an edge over their competitors. WhatsApp API offers a solution to personalize interactions and gain an edge over competitors.
WhatsApp is getting better by adding new features, and now it's not just for talking. It's becoming a way for businesses to sell things too. To specify, Facebook invested a lot of money ($5.7 billion) in Reliance Jio, and now people who use their online store can use WhatsApp to buy things from nearby stores. Because of this, experts think WhatsApp will become important in the Indian retail market.
Why businesses should consider using WhatsApp Business API?
WhatsApp Business API can be a game-changer for businesses as it can help them have a better impact on customer satisfaction. With WhatsApp, businesses can expand their reach, improve message delivery, have secure conversations with customers, increase conversions, and achieve business goals. Here are some reasons why businesses should consider using WhatsApp API:
Show off brand personality:
Brands can use WhatsApp to have one-on-one communication with their customers.
WhatsApp provides a secure and personal environment to interact with consumers.
Brands can also create business profiles to infuse their brand identity into every conversation.
Connect with customers:
Most consumers prefer messaging a business over calling customer service.
WhatsApp allows brands to connect with their customers on the channel they prefer.
Enable real-time conversations:
Users prefer having real-time conversations with brands.
WhatsApp offers a reliable two-way messaging service worldwide for real-time conversations.
Future Trends in WhatsApp Business API
Industries are now relying on WhatsApp API to reinforce their omnichannel user engagement stack. WhatsApp Business is an excellent way for large organizations to communicate with their customers. Over three million businesses worldwide use WhatsApp Business, and many small and medium enterprises communicate with their customers through it. Many popular industries use WhatsApp to communicate with their customers.
Digital communication is becoming more important in healthcare. Telehealth solutions are becoming critical as there is a demand for quality healthcare. To provide a better healthcare service, healthcare professionals need to have faster and more reliable communication. WhatsApp can help healthcare providers by facilitating essential requests, such as sending appointment reminders, prescription updates, and medical test reports, and sharing insurance processing and outstanding balance updates. Healthcare providers can respond instantly to patient queries, which helps build trust and a strong bond between healthcare providers and patients.
Benefits of WhatsApp Business API in Healthcare Industry
Recently WhatsApp Business API for healthcare has been utilized at a much more pace because the industry has been moderately sluggish to adopt advanced technologies and integrate them. To satisfy the customers and improve the sector we need to combine the benefits of healthcare services with the help of the most used instant messaging application – Whatsapp. It has an estimated 2 billion active global users, which is why its dominant and leading unrivaled in the world market. The healthcare industry can utilize  the popularity of WhatsApp to interact with its stakeholders. Let's check out some ways in which the healthcare industry benefits from WhatsApp API integrating them into their communication strategy.
Automated reminders
Missed appointments cost healthcare systems $150 billion annually. Automated reminders can help reduce these costs. WhatsApp API allows healthcare organizations to easily send reminders to patients. Patients can check their WhatsApp messages for upcoming appointments, making scheduling easier. This benefits both healthcare providers and patients by generating more leads and helping patients schedule visits.
Quick resolutions
Healthcare professionals can quickly answer patient questions no matter where they are using WhatsApp. They can also share important medical information with patients right away. These fast responses help healthcare organizations build better relationships with their clients. This leads to happier customers who are more loyal to the brand. WhatsApp API is great for health organizations because it keeps everyone's information safe and secure with end-to-end encryption and business verification.
Patient Record Access
Doctors need to see a patient's medical files to treat them well. With WhatsApp Business, doctors and caregivers can access all of the patient's information. By using third-party tools, healthcare organizations can store medical data with WhatsApp Business. This helps doctors give the right care to patients on time.
Collaborative research
Health specialists sometimes need to study similar cases together to find patterns and treatments. They can create a WhatsApp group to share trials and collaborate on treatment processes. This allows them to work together on a single platform.
Evolution in WhatsApp API and how it Impacts Healthcare Industries
Healthcare is changing a lot because of mobile technology and new trends in healthcare apps like WhatsApp API. Creating a mobile app or integrating automated customer support, etc., that meets patients' needs is a good way to stay ahead of competitors. Lots of people download health apps and make use of healthcare WhatsApp bot services every day. Businesses now are working on ideas like predictive maintenance for hospital beds and diagnosing health problems.
Today WhatsApp Business is getting better and better for healthcare organizations. It's adding new features and letting pharmacies send updates about vaccines and schedule appointments. They can also set up WhatsApp Chatbots to answer queries. Adding WhatsApp to their communication strategy can help healthcare organizations connect with customers better!